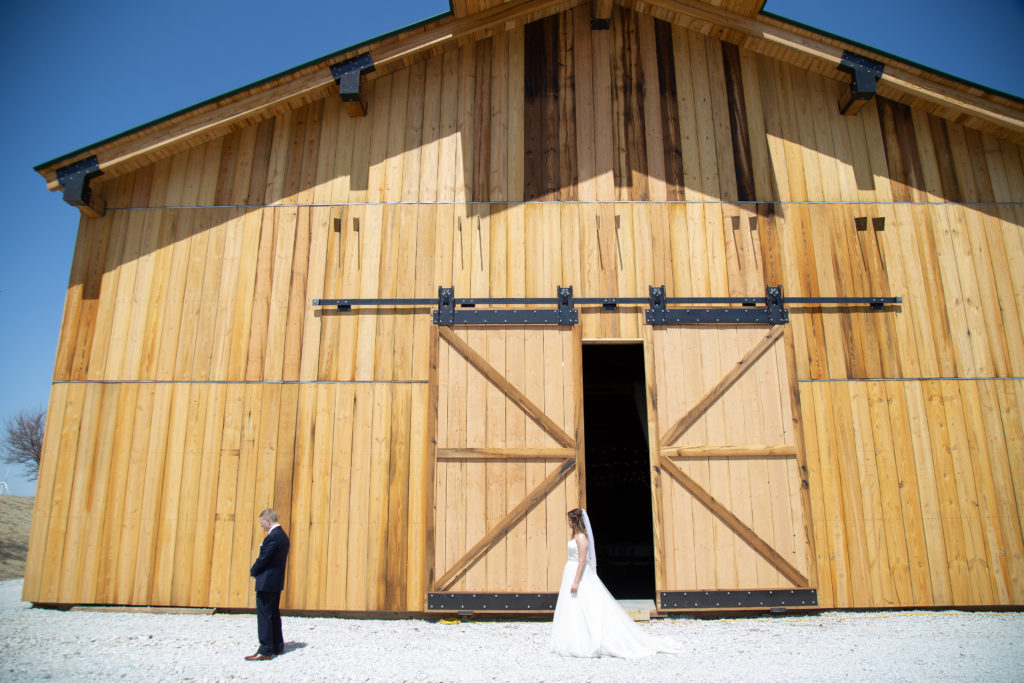 The idea of our newest addition, Schafer Barn on the Hill, was prompted by visiting engaged couples that absolutely fell in love with the Century Barn, but needed a more spacious venue to accommodate more guests.  We remodeled an existing barn on another property we owned just about 7 miles from the original Century Barn, adding large bathrooms, a commercial kitchen, rooms for the wedding party to get ready, and even it's own bar.  Then slowly and painstakingly my husband and his team added a vast 54' X 100' ceremony space, made of full tree-sized logs and beams, along with artistically designed metal fasteners engineered by our talented local welding shop.  It is truly a sight to see!
Price List
New Single-Day Price List
Saturday (8am-midnight): $3,000
Friday or Sunday (8am-midnight): $2,500
Weekday (8am-midnight): $1,500
Entire Weekend Packages
$6,500 per event – includes:
2 days prior to event to decorate and set up
2 days afterwards for tear down and clean up
Tables and chairs we have for ceremony and reception
Use of a sleeping area if the bride and groom wish to spend the night during the event weekend
Unlimited ice for day of the event
Unlimited paper towels, toilet paper and trash bags for day of the event
Shuttle service from parking to venue, etc, for day with one of our old tractors and trailers designed for passengers
Staff to work during event for set up, tear down, clearing tables, bartending, or whatever errands or jobs you may need
Trash removal after the event
Use of the space for rehearsal and rehearsal dinner, if desired
We also require a $500 refundable security deposit
Electrical power at an outdoor ceremony site, if needed
Optional Items
Antique tractor and hay rack rides $475
Motor home/Bus service for day of the event $500 - $1,000
Fireworks packages $500 - $1,000
Walk Away Cleaning $350
Capacity
Our barn will comfortably hold 600 people or more for the ceremony and reception.
We have a beautiful space for an outdoor ceremony.
---
Accommodations
The Bridal Suite and the Red Shed Lodge are both close by, and help make the Barn on the Hill a truly unique wedding "campus." (Look under the "Where to Stay" tab for details.) These options are offered first to the wedding couple getting married at the Schafer Barn on the Hill.  If these accommodations are not needed, they will then be offered to the couple getting married that weekend at the Schafer Century Barn.
Alcohol Policy
A local non-profit organization, the ACT Abroad Group, holds the liquor license for the bar at Schafer Barn on the Hill.  A drink price list is available upon request.  Payments for alcohol can be made by the wedding family, a cash bar – or any combination you choose.
---
Discounts
Military Discount
We respect our United States military and want to honor them.  All current and veteran service men and women are welcome to use our barn for their event and receive a $1,500 discount as a small token of our appreciation for your service to our great country.  Thank you for your service!
Vow Renewal
Want to renew your wedding vows?  We discount 2% for every year you've been married to one another!  For couples celebrating 50 years or more of marriage together, the barn is free and we welcome you to come enjoy it with your family and friends.
Off-Season Discount
Book a 2019 wedding during the months of January, February, March, April, or November, and receive a $1,500 discount.  (With this offer, no other discounts apply.)
---